Electronic dab rigs are the single greatest innovation in modern history… Or close to it at least! The Core e-rig is a powerful, portable and simple way to enjoy concentrates without all the hassle of conventional dab rigs. Let's dive in and see if the Core can convince you to ditch the blowtorch in favor of a 3000mah battery.
Core e-Rig Review
The Core costs a cool $199.99 USD, which includes a carrying case and plenty of extra goodies. It has a simple, all in one design which includes a water bubbler portion, and an attached carb cap. With 4 pre-set temperature settings, manual heating mode as well as a pre-heat feature the Core lets you dab however you want!
Found in the box:
Core e-rig

Triple titanium coil

Quartz bucket

Titanium bucket

Attached glass carb cap

Carrying case

Dab tool

Spare o-rings

Concentrate container

Charger

Cotton cleaning swabs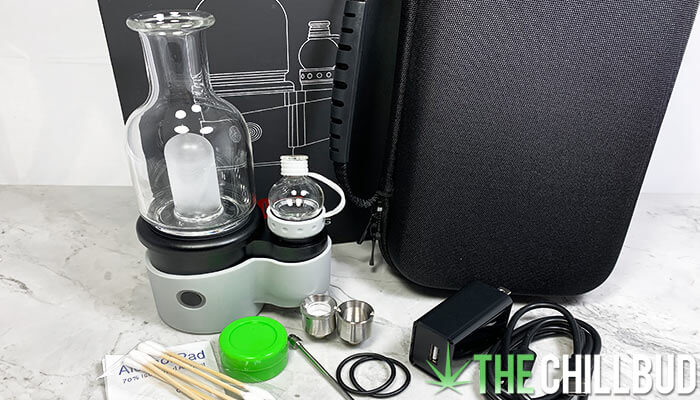 I found to get the best results when using one of the bucket atomizers and the pre-heat function on a high heat. The titanium triple coil didn't work too well, but thankfully both bucket atomizers worked great!
The all-in-one design is so nice to use. You don't need to keep track of a separate carb cap, or need any extra glass to accompany the Core. The built in bubbler and attached carb cap make life so simple! I also very much appreciate the wide base that let's the Core sit sturdy on a flat surface.
I mostly used the pre-heat function because it gave me the best performance, and this thing heats up fast! It was giving me really solid clouds and the battery life was fantastic.
Build quality is quite good, one small exception is the grey rubber sleeve on the bottom slightly overlaps the charging cable connector. You may need to fiddle a bit to get the cord to connect, but it's nothing major by any means. The whole of the unit feels well put together and thoughtfully designed.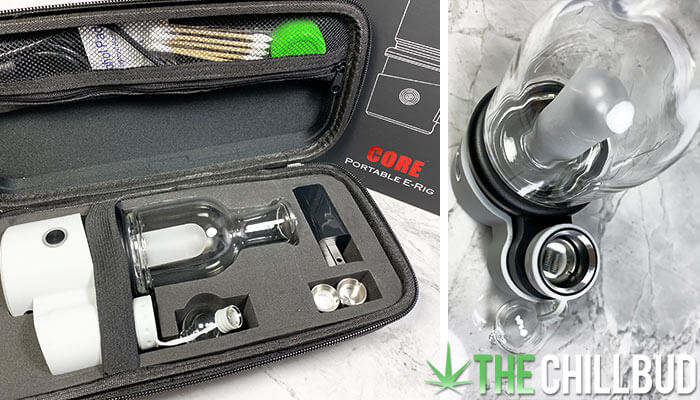 As far as price point, the Core is very fairly priced in my opinion. It costs roughly the same as similarly performing e-rigs but has a robust battery life and a selection of atomizers. The size is a bit larger than some other erigs, but I'm quite fond of the size. It sits sturdy on the desk, feels good to hold and is still small enough to be portable. When you're looking at e-rigs you aren't looking for something you can covertly use in public without being noticed.
Overall I'm very happy with the Core. I don't have anything to criticize, it does exactly what it is supposed to, and it does it well.
Get yours here: TorontoVaporizer.ca
Comments