This review was made possible thanks to the kind folks at Smokazon. Cloud Pen is a well known portable vaporizer brand that specializes in… you guessed it, pen vapes! The Chloris is a bit larger than their pen line, but it is still quite compact.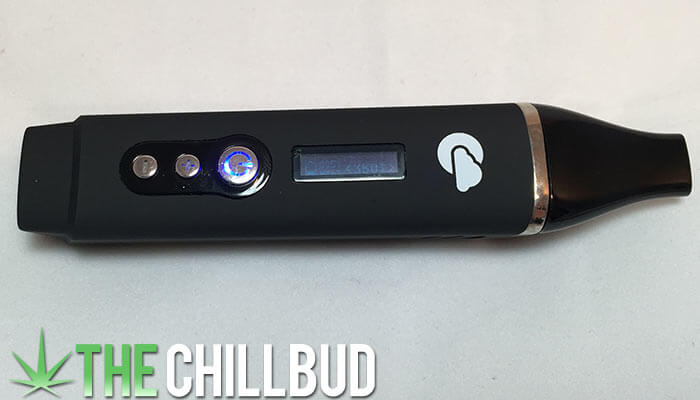 Cloud Pen Chloris Review
The term "Chloris" means Goddess of Flowers, a pretty bold term for a $99.99 USD vaporizer. This is the first vaporizer I have had the chance to try from Cloud Pen, before I jump into too much detail, I wasn't too impressed.
Found in the box:
Chloris vaporizer

Micro USB cord

AC adapter

3 Mouthguards

Cleaning brush

Stainless steel pick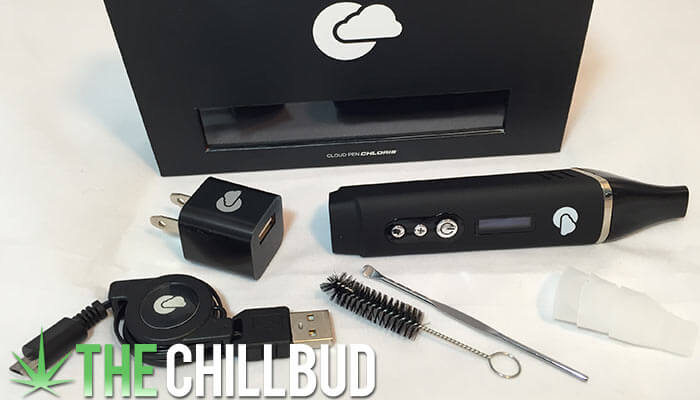 The Cloud Pen Chloris vaporizer is a slim portable vaporizer used for dry herbs. It has a temperature range of 350° F – 430° F that you can dial in degree by degree. It heats up remarkably fast and looks pretty nice, especially for a $99 vape.
Once I used the Chloris a few times the problems started to pile up. First and foremost, the vapor quality was quite poor. In an attempt to get a dense vapor pull I found myself turning the temperature far above what I would normally use, and still the vapor density was very poor. The taste was also pretty offensive, I got a very plasticy taste and aroma, no doubt from the "food safe" plastic mouthpiece.
This vaporizer looks quite nice, but I feel the designers focused far too much on the aesthetic and not nearly enough on the function. The oven sites underneath the mouthpiece, and you are supposed to be able to easily snap it on and off in order to load and empty the oven. It is by no means "easy", it takes quite a bit of force to get the mouthpiece off, to the point I had to check and re-check the instructions to make sure I wasn't breaking anything. The buttons and mouthpiece rattle around as well, giving you the feeling that this is a cheap vaporizer, which it is.
The one thing that impressed me with the Chloris was the retractable USB cord. It's a nice little feature that helps keep things compact and tidy.
Pros
Price… I guess. You shouldn't expect amazing results from a portable vaporizer for under $100. For someone on a budget, this might very well be a decent option for a budget vape. However there are a couple others for around this price point that function far better.
Aesthetically the Chloris is quite nice.
The Chloris is very easy to operate, and being able to dial in your desired temperature down to the degree is a nice feature.
Cons
Cloud Pen's Chloris doesn't offer much in terms of a quality vapor experience. The density, taste and potency are all wanting.
The build quality could use some work, while the pen itself looks very nice, the buttons feel cheap and the mouthpiece needs to be re-worked from the ground up.
Final Thoughts
Aside from a couple of vaporizers that seemed to combust the herb as oppose to vaporizing it, the Cloud Pen Chloris ranks near the bottom of vaporizers I have had the pleasure of reviewing.
If you were thinking of purchasing a Chloris, I would suggest you wait and save a few more bucks to get something better. With such poor vapor performance it would be difficult to recommend this to anyone.
Don't let the poor performance of the Chloris reflect on Smokazon though. They have a fantastic online shop and extremely friendly folks that make sure you have a positive experience. Go visit them, and maybe purchase a different vaporizer. I even managed to get you a coupon code for 10% Off your order!
Coupon code for 10% Off at Smokazon:
CHILLBUD
Get yours here: smokazon.com
Comments