Our friends at Canna Bake Box were kind enough to send over a sample of their Standard Box to check out and review. Canna Bake Box is a popular monthly subscription box for stoners that offers all sorts of goodies delivered to your door starting at $23 (with a 6-month subscription). They also offer a 710 Box and Craft Box, but we didn't get the chance to check those out, so this will just be a review of their Standard Box.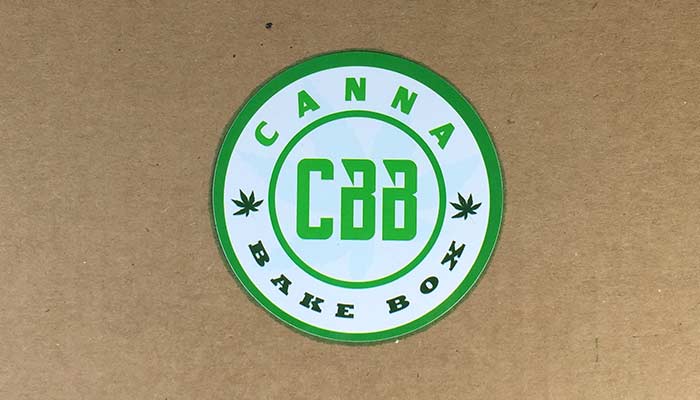 Canna Bake Box Coupon for 10% Off: CHILLBUD
Canna Bake Box Review
The CannaBakeBox arrived very in an inconspicuous, plain white box. Inside were plenty of goodies, including a piece of glass, some tasty treats for post-puffing munchies and an array of other stoner-treasures. The box we received was their 'Standard Box' which comes in at $29 USD, putting it on par with most other stoner subscription boxes on the market. One nice little touch we wanted to point out was the inclusion of a cannabutter recipe and some fun weed-facts!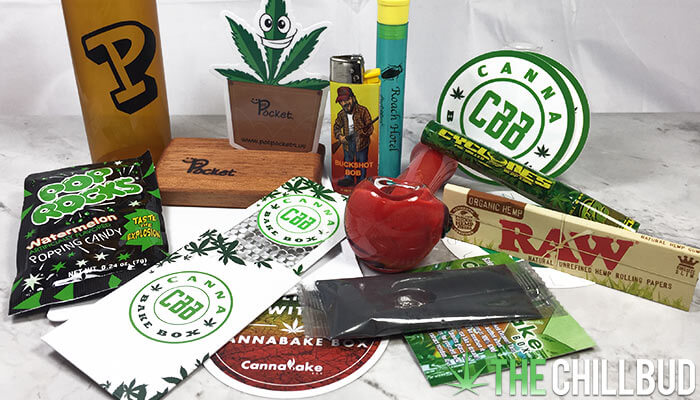 Standard Box
The Standard Canna Bake Box comes with 5-9 essentials + gear according to their website, whereas the other boxes come with 7-12 essentials + gear. I was a little surprised to see that they didn't include a list of items found in the box. While a stash list isn't exactly necessary, it's something I'd like to see, for no other reason than to make sure I got everything.
Another important note about the CannaBakeBox is the shipping cost. US residents can expect to pay another $9.95 to have their box shipped and international orders are charged $17.95 for shipping.
Standard Box Stash List
Classic spoon-style glass pipe

The Drop Pad

Plastic stash container

Packet of Baked Cleaner

Mini Doob Tube

Pot Pocket personal organizer

RAW Kingsize papers

Cyclones natural hemp cones

CBB Grinder card

Lighter

Pop Rocks

Stickers!!!
Our Feels on Canna Bake Box
Value is the name of the game when it comes to subscription boxes. Customers want something filled with quality items they actually use, and they want to save some money getting it all delivered at once as opposed to picking everything up from the local shop. It can be difficult to accurately gauge value from just one box, especially when they offer 3 different options. That being said, I didn't really feel like this box was worth the $29 + $9.95 shipping cost.
I really liked some of what the Canna Bake Box team did as far as including plenty of stickers, and fun little cannabis themed information tidbits. As far as the actual value of the box, I think I just got a less than amazing month. After looking up the cost of some of the products, there's no question that I got a deal. But would I normally buy a 'Drop Pad' for $9.99? No… Never.
Canna Bake Box Coupon Code
To put the value issue to rest, we got a coupon code for our readers that gives you 10% off your CannaBakeBox order!
So grab yourself a Canna Bake Box, save some money, and let us know what you think.
Canna Bake Box Coupon Code for 10% Off: CHILLBUD
Get your box here: cannabakebox.com
Moar Boxes!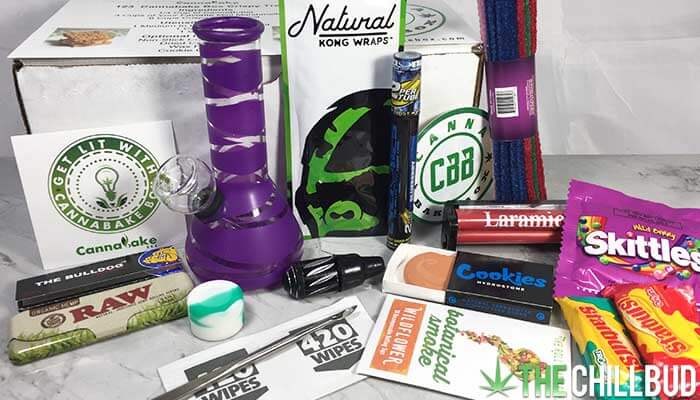 Comments