In our quest to review the very best cannabis friendly products and services, we found a truly exceptional monthly subscription box. The people over at Burn Box sent us one of their Super Boxes to review, and we were quite pleased with what we found.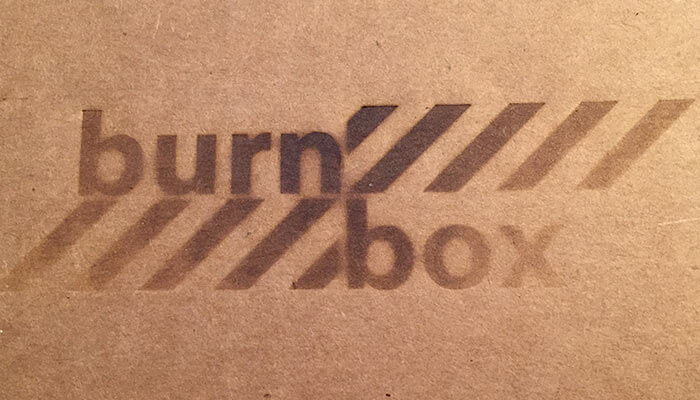 Super Burn Box Review (November)
Burn Box offers customers 3 different boxes to choose from: The Super Box, Stay Classy Box, and the Keep it Rollin' Box. They range from $20-$30 per month, we will be looking at the Super Box, the most expensive of the three.
1-month plan: $30 (+ $3 S&H)

3-month plan: $28.66 per month (+ $3 S&H)

6-month plan: $27.50 per month (+ $3 S&H)

12-month plan: $27.08 per month (+ $3 S&H)
Despite the box being quite a bit smaller than most other subscription boxes we have seen, it is jam packed with goodies! You really get the feeling that every dollar you spent was put towards the goods inside the box, not fancy packaging that ends up in the recycling bin. They even burn their logo into the top of the box instead of using ink, one of those small touches that makes you smile when you see it.
This Burn Box contained an awesome sherlock style glass pipe, well worth the subscription price on its own. Burn Box didn't stop there though, they really strive to give you the best bang for your buck without inundating you with junk you probably won't use.
The Burn Box seems to cater to a more… adult crowd. There weren't any flavored papers, drops or similar novelty items. This might be a disappointment to some, but it fits my smoking style perfectly. Containing plenty of 'nifty' items that I wouldn't normally buy, but am quite pleased they included. The Corn Papers from T. Ras Rolling co. for example, something I wouldn't normally think of buying, but I'm pretty stoked to try them out!
Everything in the box seems to reflect the packaging itself. A natural, no nonsense feel that any seasoned toker will appreciate.
Let's take a look at what you can expect to find in the Burn Box.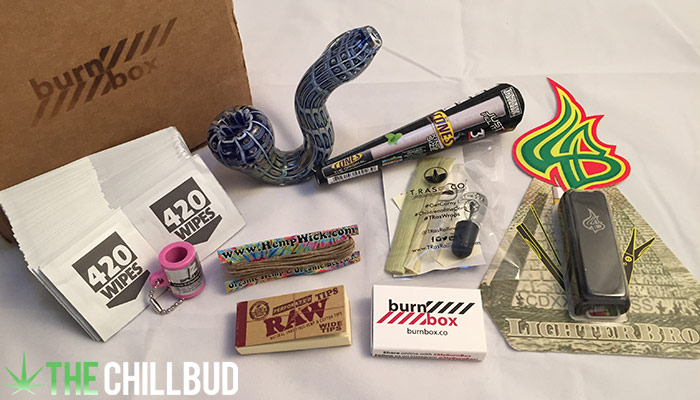 Burn Box Stash list
Sherlock style Glass Pipe
LighterBro
King Size Cones (pack of 3)
Corn Papers from T. Ras Rolling co.
Cigar Splitter
RAW tips (pack of 50)
HempWick
BurnBox Matches
420 Wipes (80 of em!)
Dope LighterBro Sticker
Our Feels on the Burn Box
At the $30 mark, you really do get your monies worth with the Burn Box. Offering a nice balance between smoking necessities and the items that make you say "damn, that's cool!". They even manage to use a portion of their proceeds to support NORML (the National Organization for the Reform of Marijuana Laws).
I wasn't displeased with anything I found in the Burn Box, and it will all be put to good use. They could have easily gotten away with putting only a few packs of the 420 Wipes in the box this month, but they didn't, they packed it with 80 of them! Goes to show that Burn Box doesn't skimp, they go the extra mile to be sure you get what you pay for, and more.
My only issue, just because I have to have one, is the fact that there were no papers besides the Corn ones and the cones. I would have liked to see a pack of RAW papers thrown in to accompany the stack of tips they give you. That being said, I really like that they don't overload the box with pack after pack of rolling papers.
Sorry, it seems that Burn Box is longer a thing…
Check out one of our other Stoner Subscription Box Reviews.
Comments