The Boundless CFV vaporizer has been around for years and we finally got our hands on one. With plenty of great features and a classic box-vape design, it's easy to see why the CFV is so popular among first-time vape buyers. We've thoroughly tested the CFV to help you explore all the pros and cons to help you decide if it's the vaporizer for you.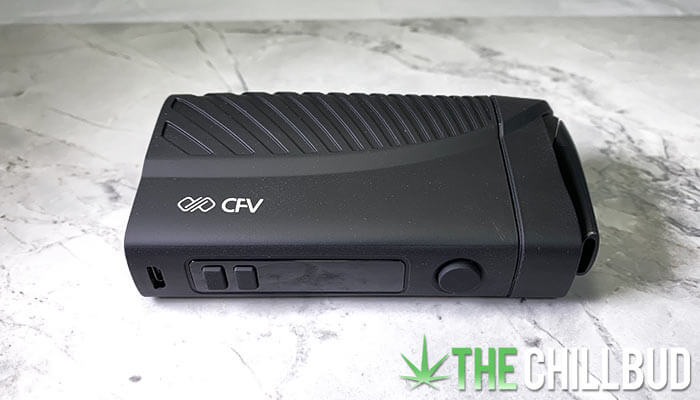 Boundless CFV Review
The Boundless CFV costs $149.99 USD. For this fairly average price you get a nice array of features and add-ons. Full temperature control (140° F – 446° F), a digital display and even an attachment for water-pipes! However, despite all of these fancy features we were overall quite disappointed in the CFV.
Found in the box:
CFV Vaporizer
Extra screens
Poker tool
Cleaning brush
Water pipe adapter
USB charger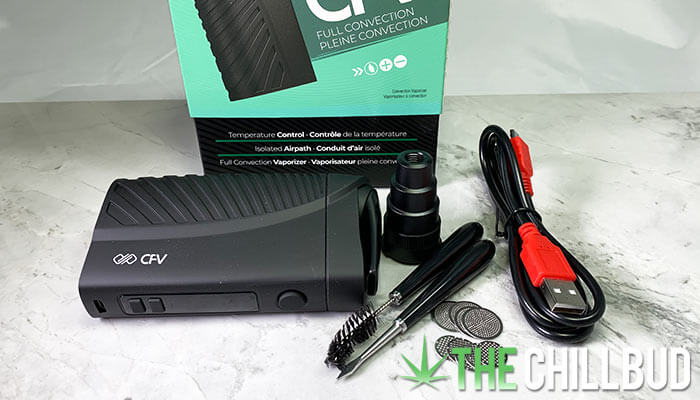 Let's start with the inoffensive design of the CFV. A classic box vaporizer that's easy to operate and comfortable to use. The build quality itself is a bit wanting, things seem to rattle around a bit and flimsy plastic is in no shortage.
Aside from the actual function of the CFV (which we'll get to later), one of our biggest gripes is with the oven area. There is a large, deep moat surrounding the oven that's virtually impossible to keep ground herb out of. The issue is compounded by the fact that the mouthpiece locks into the very same grooved area. It's as if whoever designed this vaporizer has never used one. Small conveniences like a sloped oven area can make all the difference for daily users.
Now let's get to the function. I wouldn't recommend anyone buy the Boundless CFV. We generally don't have such a negative take on a vaporizer, as most bring something to the table for at least some sliver of the vaporizer market. But when a vaporizer doesn't even vaporize I can't imagine it serves any portion of the market. Even at the absolute maximum temperature setting the CFV failed to deliver even a modest mouthful of vapor. It made me feel like we got a dud of a unit, but it did heat up, it did reach temperature (according to the display) and we gave it every opportunity to work.
There are plenty of other vaporizers that cost much less that perform phenomenally better than the CFV. No matter how many modern features you add to your vape, they mean absolutely nothing if the unit fails to vaporize herb. It seems as though a board of non-vape users designed the CFV and never bothered trying it before putting it on the market. If it cost half as much we would still recommend you avoid even considering the CFV.
So to sum up our review of the Boundless CFV, save your money and buy something else. Go check out the vape store linked below and you'll find plenty of great options for ~$150.
Shop vaporizers here: Tvape.com
Comments