So the folks at Atman sent us one of their Hachi vaporizers made from rosewood. We were excited to check it out seeing as it was the first wooden hand-held vaporizer that we have had the chance to review. The real question is if the Atman Hachi combines quality tech with their rustic looking vape.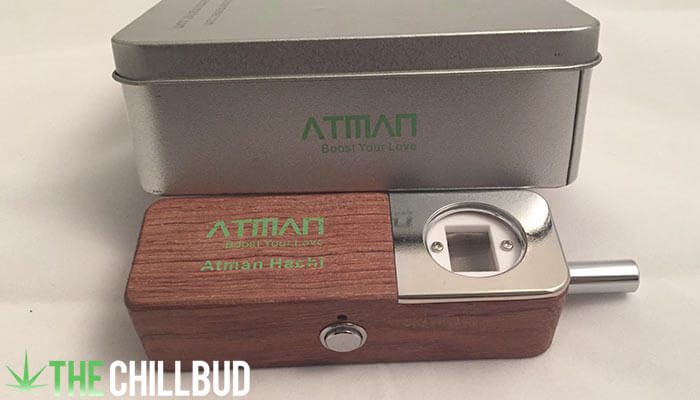 Atman Hachi Vaporizer Review
The Hachi vape costs $119.99, making it a very affordable option compared to most other hand-held vaporizers. It uses the iPhone 6 USB charger as well, making it very convenient to charge for iPhone owners.
Found in the box:
Atman Hachi vaporizer

Magnetic oven lid with window

Stainless steel mouthpiece

Spoon / poker tool

Cleaning brush

USB Apple charger

Extra heating element

Mini-screw driver

Spare screens / screws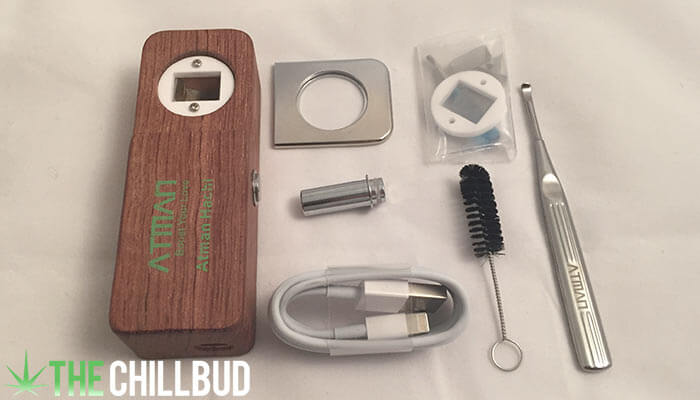 Sticking with the classic ease of use mentality, the Hachi vaporizer only has 1 button. Clicking it 5-times to unlock it and 5-times to turn it off. In order to operate the vaporizer you need to hold down the button.
There is no temperature control on the Hachi vape, generally this isn't a problem if the factory setting is dialed in, but unfortunately that's not the case. In fact, I would hesitate to even call the Atman Hachi a vaporizer, it's more of an electric pipe. I'll elaborate more in the Cons section.
I did really love the idea of having a vaporizer made from rosewood, it gives it a very natural feel and pairs well with a monkey pipe.
Pros:
Ease of use is always a key concern with hand-held vaporizers. The Atman Hachi is very easy to use, cleaning however is a bit more difficult.
The magnetic oven lid provided is quite secure. Many other vapes use magnetic oven lids, because magnets are awesome!
I love the fact that I can look at my herb as I vaporize it. You can monitor the color and ensure you don't over vape your product.
The draw is pretty enjoyable in the Hachi, it takes very little effort and provides robust tokes each and every time.
Cons:
As I mentioned before, this is really more of an electric pipe than a vaporizer. Almost immediately I noticed that the herb I had packed was turning black as I used the vape. It would even continue to smoke after I released the button, suggesting the herb was being combusted. As a frequent toker, I can tell the difference between vapor and smoke in my mouth, this was most definitely smoke.
The simplicity in the design is something I actually enjoy, but the quality of the parts is another story. Plastic is used in the oven area, and at the temperatures it reaches I worry about toxins leaching into the smoke. The charging slot was also kind of off-center, I could still plug it in, but just barely.
Turning the device on with no herb loaded was a bit of an eye opener. Smoke began pouring out of the mouthpiece. The aroma of the smoke was that of burning wood, meaning you are not only getting a dose of combusted herb, but wood smoke as well.
Final Thoughts
You could argue that you get what you pay for with vaporizers, and you would be correct. Sadly I don't think anyone would be too pleased with the Atman Hachi after paying $119.99 for a vaporizer and realizing they actually have an electric pipe.
If the Hachi was tweaked (heavily) and actually functioned as a vaporizer, it would be awesome! Again, I really love the wooden design, it just needs to be executed better in my opinion.
Atman offers a bunch of other vaporizers as well, you can check out the Hachi and their other vapes here if you are interested. – atmanmarket.com
Atman Hachi
Vapor Quality -

4/10

Build Quality -

5/10

Usability -

6.5/10

Stealth -

4/10

Value -

5/10
Overall Score
Not our top recommendation…
Comments