Vaporizer enthusiasts rejoice! Arizer has introduced a remarkable new vaporizer, an updated version of one of our absolute favorite portable vapes; the Solo II. The Solo 2 pays tribute to its roots with a very similar design to the original Solo, with a few key upgrades.
*The Arizer Solo 2 has been released! It costs $249.99 USD and it's worth every penny!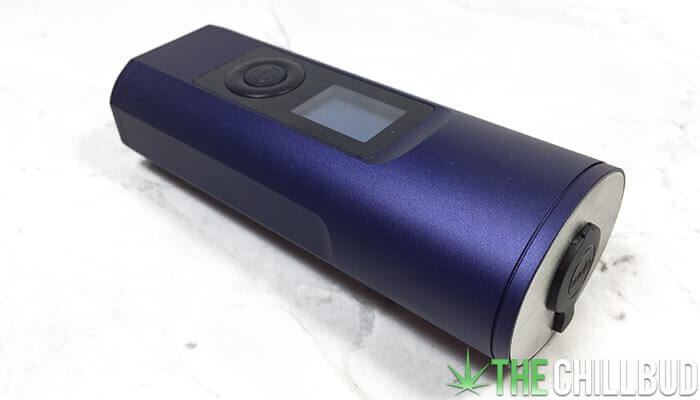 Arizer Solo II Review
The Arizer Solo II will come in two colors to start, Mystic Blue and Carbon Black. We assume it will cost around ~$200 ($249.99), putting it in line with Arizers other portable vaporizers.
The Solo II took quite a few cues from the original, from the way you load / operate the unit to the overall dimensions. The addition of an organic LED display allows users to closely monitor / adjust things like temperature, operating time and battery life. The height of the Solo II is virtually identical to the original, but it was given more of an oval design which makes holding the unit more comfortable.
Found in the box:
Solo 2 Vaporizer

2 Glass stems (90mm & 110mm lengths)

2 Silicone stem caps

Glass aroma dish

Carrying case

Stainless steel stirring tool

4 Stainless steel screens

Sample of aromatic botanicals

Wall charger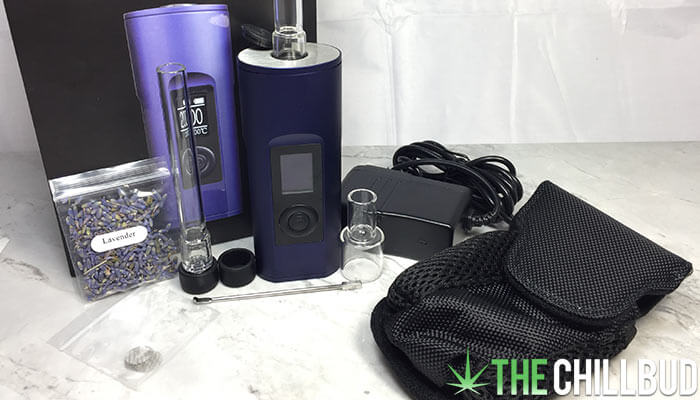 As far as the overall experience and vapor quality, the Solo II is almost exactly the same as the original Solo. This might not sound like a good thing, but it's a fantastic thing! The original Arizer Solo was, and still is one of the best vaporizers. I love that Arizer didn't try to reinvent the wheel, they just upgraded the guts and brought the aesthetics up to date.
Once you get a hold of the Solo II you get a sense for how well it's built. It has a solid feel, nothing rattles around at all. Arizer used a piece of brushed stainless steel to cap off the top and bottom of the unit, and quite honestly it's my favorite change aside from the vastly improved battery life. It just looks really great, reinforcing a feeling of durability, quality and pure function; plus it's easy to clean.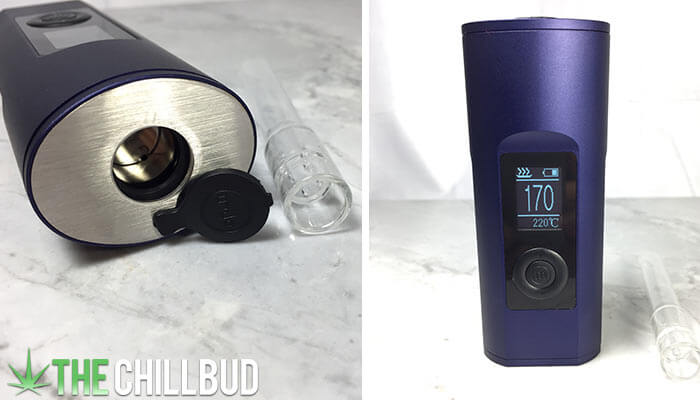 Here's the big change that will have any existing Solo owners clamoring to order a new Solo II; battery life. The Solo II battery will last up to 3-hours on a single charge. More realistically you can expect well over 2-hours of battery life, at least that's been my experience. The unit also takes 3-hours to fully charge, but it can be used while charging to avoid too much downtime.
The OLED display is controlled with 3-buttons at the front of the unit and will let you know when the device is heating, battery life and of course temperature. You can dial in the exact temperature you want between 50° C and 220° C (122° F – 428° F) using 1-degree (°C) or 10-degree increments. You can also adjust things like the volume of the beeps or you can turn them off completely. Display brightness and Celsius / Fahrenheit settings can also be adjusted.
The Solo II has a power-on delay as well as an auto shut-off timer built in for safety reasons. You can adjust these in the settings, but you can't turn either off completely. The auto shut-off isn't an issue as it allows you to vape for up to 15 minutes per session. The power-on delay is a bit of a nuisance as it can't be set any lower than 4-seconds. All this means if you have to hold the power buttons for 4 seconds before the device turns on, not the end of the world, but kind of annoying.
In terms of performance the Solo II is fantastic, just like the original. Vapor quality, density and flavor are all top notch. What you can expect is a faster heat up time, reaching 200° C in ~40 seconds. This more powerful heater also allows for more aggressive hauls because it can maintain temperature during use more easily.
The glass stems on the Solo II are virtually the same as the ones found on the original, holding the same amount of herb (around 0.2 grams). Original Solo stems will fit in the Solo II without issue.
Pros
Performance. Arizer has figured out how to provide optimal vapor flavor and quality in an extremely efficient portable vaporizer. There's a few vaporizers that can compete, but none come to mind that can exceed the Solo II.
The improved battery life and heat up time helped bring the new Solo vaporizer up to date in terms of current vaporizer technology.
The tweaked design and style of the Solo II are great! Paying homage to its lineage and at the same time offering a more refined and updated look.
Cons
Size has always been a hot topic when discussing the Solo. As a portable vaporizer it is on the large side, not to mention the protruding glass tube. While the Solo II has trimmed down a little, it's still on the larger side of portable vaporizers.
I would have liked to see easily interchangeable batteries in the Solo II. The Arizer Air allows users to quickly replace dead batteries, I'd like to see this carried over to the new Solo. Being able to use the device while it's charging helps make this a non-issue while vaporizing at home.
The stems DO fit in a 14mm glass fitting, but not well. 14mm glass attachments made specifically for the Solo and Air have been around for a while, and they're extremely popular among Arizer users. I would have liked to see one included with the Solo II, even at the expense of one of the regular stems.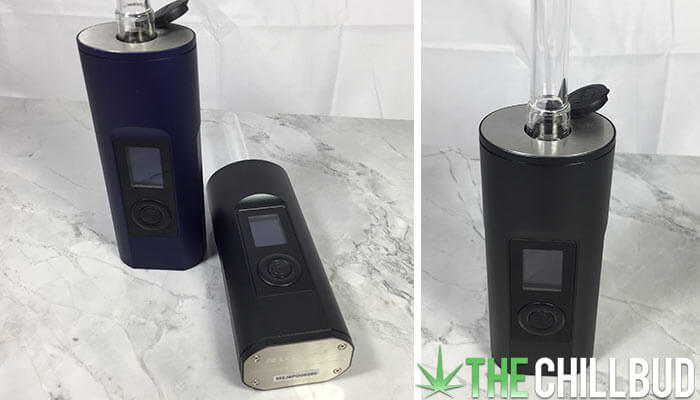 Arizer Solo vs Solo II
Aside from the changes we mentioned above, here's what the Arizer Solo and Solo II look like side by side.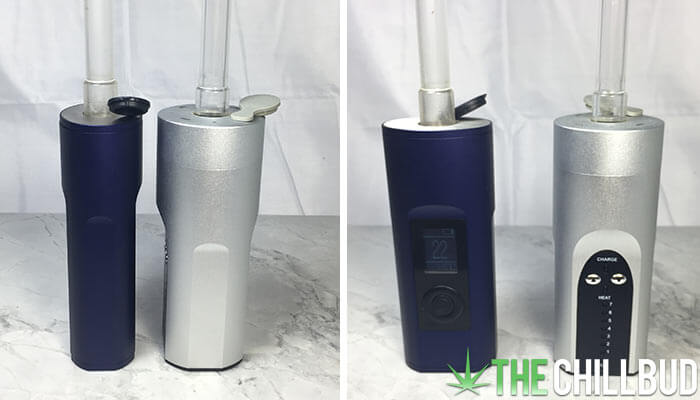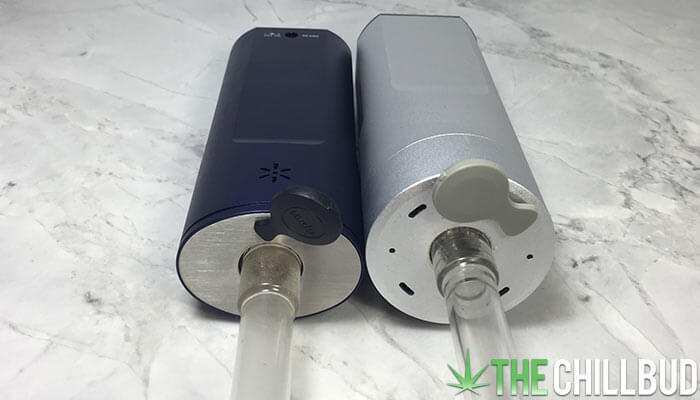 Final Thoughts
Quite frankly I'm over the moon that Arizer decided to update an old classic. The Solo II is my new favorite 'at-home portable'. What it lacks in stealth and portability it more than makes up for through its performance.
If you're in the market for something you can throw in your pocket, take on a hike or outdoor adventure, the Solo II probably isn't for you. If you're primarily vaporizing at home and want to have an uncompromising vaporizing experience, get a Solo II.
Get yours here: Arizer.com or from TVape.com
Arizer Solo 2
Vapor Quality -

9.5/10

Build Quality -

9/10

Usability -

8/10

Stealth -

6.5/10

Value -

8.5/10
Overall Score
If you don't need a super stealthy portable vape, this is our top pick.
Comments