Arizer recently revamped their classic Solo model with the Solo II, so naturally they did the same with their Air as well. The Arizer Air II is a modernized version of their original Air with improvements like improved battery life, digital display and incremental temperature selection. It's no secret that Arizer is among our favorite vaporizer companies, so we were beyond stoked to see what the Air II was all about.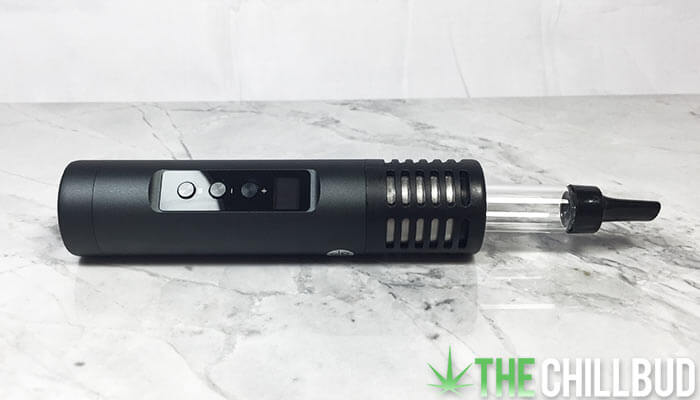 Arizer Air II Review
Before we dive into the nitty gritty details surrounding the Air II, let's cover the basics. First of all, the Arizer Air 2 will set you back a cool $229.99. If you're interested in picking up an extra 18650 rechargeable battery it's another ~$20 (we'd suggest grabbing an extra battery).
Found in the box:
Arizer Air 2 vaporizer

Glass mouthpiece with plastic tip

Glass mouthpiece without tip

Aromatherapy dish

Removeable 18650 battery

Silicone stem caps

USB charger with wall adapter

Carrying case
*Included in the picture is a glass adapter to fit the vaporizer to a bubbler / bong. Available for an additional cost.*
The Air II has a decent battery life of 60+ minutes or 6-8 full cycle uses. The recharge time takes between 3 and 4 hours but you can use the vaporizer while it's charging.
Hands down the biggest improvement of the Air II over the original Air model is the fact that you can dial in your desired temperature between 122° F and 428° F. They make it dead simple to operate with the addition of a very crisp digital display, a major improvement from the colored lights from the previous model.
Arizer is among our favorite vaporizer producers for one simple reason, they create vaporizers that offer some of the cleanest and best tasting vapor we've ever come across. Vapor quality is of paramount importance when choosing which vape you want to purchase. And they have it in spades! The heat up time on the Air II is a bit longer (about 90 seconds) than other top vaporizer models released recently, but the quality of the vapor is well worth the wait.
The major advantage of choosing the Air II over another favorite of ours, the Solo II is size of the unit itself, as well as being able to swap out batteries. Battery life on the Solo II is much better than the Air II, but the price of this improved battery life is an increased size and weight. For someone like me who is primarily an at-home vape user, the Solo II is the clear choice. For anyone who likes to vape on the go, carry their vape in their pocket or bring it on a hike / camping trip, the Air II is probably the way to go.
Backed by a 2-year warranty, you won't need to worry about your Arizer Air II crapping out on you a few months after purchase. They back their products with a fantastic warranty because they can. They offer top notch, high quality vaporizers that are built to last and built to outperform the competition. Do yourself a favor and add Arizer to your vaporizer wish list. Regardless of which model you choose, you'll be pleased as punch!
Get yours here: Arizer.com
Comments