The Airvape XS has been on our radar for quite some time, touted as one of the most powerful vaporizers of its size. We are very pleased to be able to review the Airvape XS and put this tiny powerhouse to the test.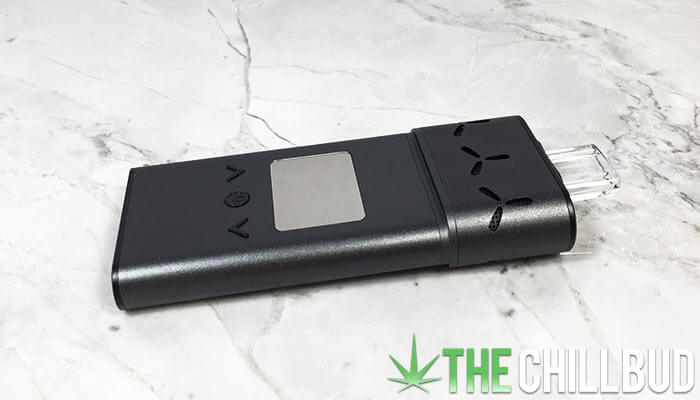 Airvape XS Review
This thing is small, very small! The Airvape XS is only ¾" thick and just under 5" tall, making it one of the smaller hand held vaporizers on the market. It may be small, but you still get all the features you've come to expect with top of the line vaporizers. A digital display, temperature displayed in either F° or C°, an auto shut-off timer (3 or 5 minutes), vibration alerts, a ceramic oven chamber and full range temperature control (200° F – 428° F). All of this for just $179.00 USD.
Found in the box:
AirVape XS Vaporizer

Leather case

USB Charger + wall adapter

Cleaning tools

Extra filter screens

Extra rubber mouthpiece cover

**Hard plastic case

not

included**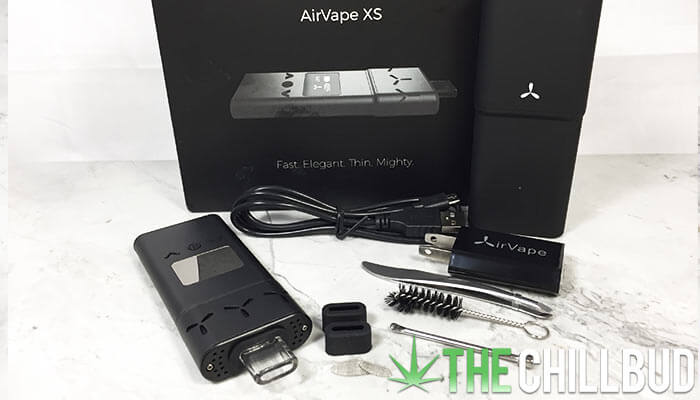 The newer Airvape XS models have the ability to vaporizer herb as well as concentrates, however if you plan on vaporizer concentrates you'll need a special insert that costs an additional $14.99.
Right off the bat I was a bit skeptical of how well the Airvape XS could possibly work when it's so small. Generally I feel that when a company puts everything in such a small package, it suffers when it comes to vapor quality. This was not the case. The AirVape XS really did a great job when it came to vapor quality, taste and heat distribution. I wouldn't say it was top of the line on any one of those fronts, but damn near top of the line and for a fraction of the price / size of most other units.
We got the Mystic Gray color sent to us but the AirVape gives you a few different color options to choose from, Midnight Blue, Red Gold and Rose Gold. Regardless of the color you choose, the vaporizer is very sleek and stealthy. It has an all metal build with a press-fit glass mouthpiece and oval ceramic oven for optimal heat distribution. The AirVape XS heats up to my desired vaporizing temperature (385° F) in just under 30-seconds.
Vaporizer upkeep is something you'll need to keep in mind if you're planning on owning an AirVape XS, thankfully it's really quite easy to clean and maintain. The small metal screen on the mouthpiece will get gummed up and clog pretty quickly if you don't brush it off between uses. Stay on top of clearing the gunk and you won't need to worry about thoroughly cleaning the unit quite as often.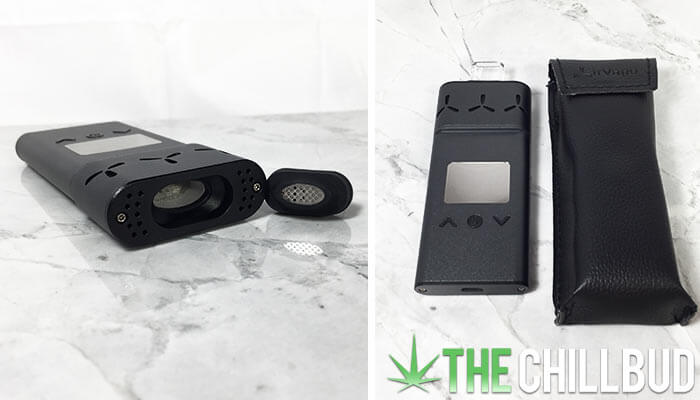 Pros
Size. The number one reason to own an AirVape XS is the fact that it's so tiny and extremely portable / stealthy.
The Airvape XS performs very well in terms of vapor quality / production.
Build quality is really top notch, especially when you consider the price of this unit.
Cons
The press-fit style mouthpiece isn't my favorite, it feels like it could let loose during heavy handling.
Vapor can be a bit rough on the throat because the oven chamber is directly below the mouthpiece, not allowing the vapor to cool as much as I would like.
Final Thoughts
Overall I really had very few problems with the AirVape XS. It packed a lot into such a tiny and sturdy feeling package for a bargain price. You really can't go wrong with this vaporizer.
Get yours here: AirVapeUSA.com
Comments