Lineage: Pink Kush is an indica dominant hybrid derived from the OG Kush genetics.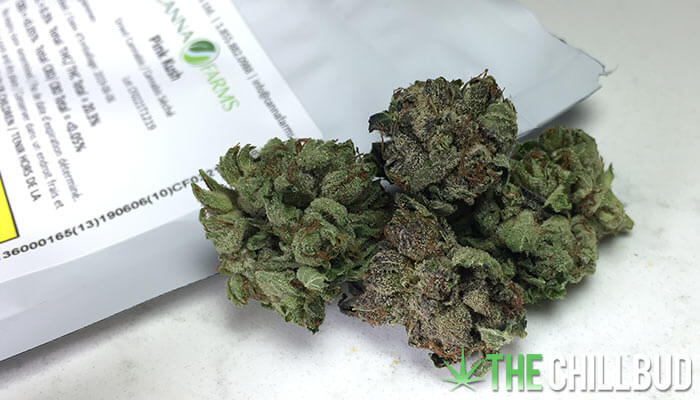 Pink Kush from Canna Farms Review
We picked up a package of Pink Kush grown by Canna Farms for a couple of reasons. One, we heard great things about the potency of this strain. Two, we wanted to smoke the most vibrant purple weed that the dispensary had to offer.
Pink Kush delivered on only one of these. While it was a brilliantly tasty and intoxicating strain, it was far from purple (or pink). This is less of a comment on the strain / grower themselves and more on the dispensary that assured me that this strain was as purple as it gets. About half of the buds had a touch of purple if you looked closely, but it's far from purple bud if you ask me (I tried to get the most purple buds for the purposes of the picture above).
The taste and aroma is very floral with sweet, earthy elements. It was an absolute treat to smoke, but vaporizing it was truly fantastic! By vaporizing the Pink Kush you're able to dissect and appreciate all the subtleties this strain has to offer.
Canna Farms is a well trusted cannabis producer in Canada, known for their quality bud. They did not disappoint. This Pink Kush strain provided a powerful and blissful full body high that would work very well for individuals looking to mitigate chronic pain or users looking for a deep relaxing stone. I was a bit shocked at how expensive it was though, coming in at ~$65 for 3.5 grams.
The particular batch of Pink Kush we tried out came in at ~20% THC and <0.05% CBD.
Comments