Stoner friendly subscription boxes can be a great way to try new products or resupply old favorites for a fraction of the retail price. Not all subscription boxes are created equal though, which you probably already know if you've had the chance to check out our stoner sub box review master list.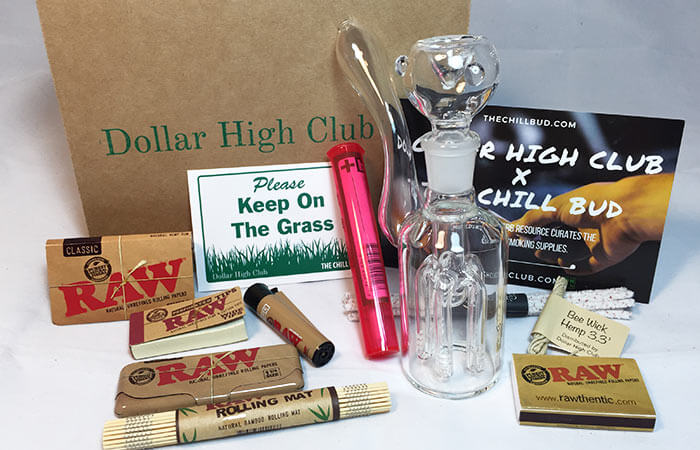 A New Standard In Subscription Boxes for Stoners
One company in particular really hit a homerun with their subscription box service, coupling value with top knotch products that people actually want. We're proud to announce that we have partnered up with them for their September box, helping them curate a box that every stoner would be thrilled to get in the mail. We are confident that it is the very best cannabis based subscription box to date. Afterall, we helped put it together.
The Chill Box
Our friends at the Dollar High Club reached out to us to help them put together a box that would serve as the benchmark for every box to come.
We took everything we've learned from our fantastic audience (you), as well as everything we've learned from our years of personal smoking experience. Needless to say, the September Dollar High Club box is going to be the best darned box you've ever seen! We decided to go with a RAW heavy theme because they are a staple in our lives as well as many of our readers.
If you have graduated from the flavored paper phase and want to enjoy the intricate, unique and subtle flavor profile that each cannabis strain has to offer, you'll want to go with RAW.
*Just to be clear, we are not affiliated with RAW (yet ;). We just really love their products.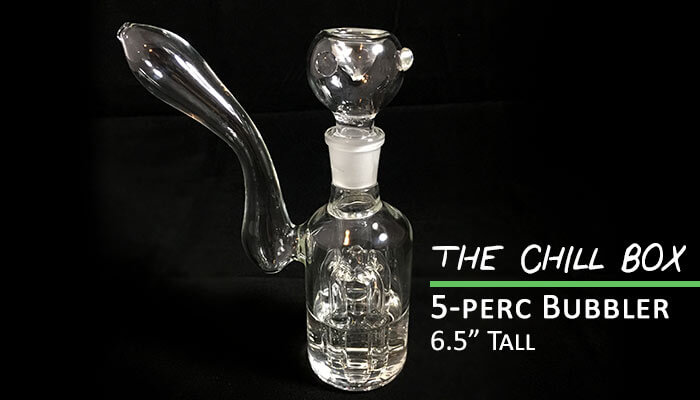 Beyond the papers, tips, wicks and other RAW goodies found in The Chill Box, the piece we are most excited about is the custom made five-perc bubbler. This glass was made specifically for The Chill Box and it will shatter everything you thought you knew about subscription box glass.
After reviewing all of the best subscription boxes the industry has to offer, we found that virtually all of the glass was very cheap. Finally, there is a box that offers a glass piece that any toker would be proud to add to their collection. It's by far the most durable piece we've ever seen in a sub box, the bubbler alone is well worth the price of the entire box.
Final Words
We're proud as punch to offer everyone a little piece of ourselves in the form of our favorite smoking supplies. To celebrate this amazing collaboration with Dollar High Club we partnered up to give away an amazing piece of glass to 1 lucky toker. You can enter HERE for free up until the end of September.
As a special thanks to all of The Chill Bud's loyal crew we have a special discount code that will save you 10% when you order The Chill Box.
10% Off Coupon Code:
CHILL
*Edit: Overwhelming demand for the Dollar High Club x The Chill Bud 'The Chill Box' has left a very limited supply for the month of September. Using the above coupon code will guarantee your Chill Box.
Order yours on DollarHighClub.com
Finally, we want to hear your thoughts! Let us know in an e-mail, in the comments below or via social media what you think about The Chill Box. Are you as stoked as we are? Are you disappointed that your favorite product didn't make the cut? We hope you are as overjoyed as we are.
Stay chill.
Comments