It's no secret that the Daily High Club is our hands down favorite monthly stoner subscription box. We even collaborated with them on their 2016 September box; The Chill Box. Filling the box with smoking essentials that every day tokers know and love, not nonsense or fillers that will inevitably end up in the garbage can. This box was such a hit among The Chill Bud fans, along with Daily High Club subscribers that it became one of their best selling boxes of all time! So, naturally we were thrilled to hear that our friends at DHC wanted our input for their 2017 September box. Enter The Chill Bud 2.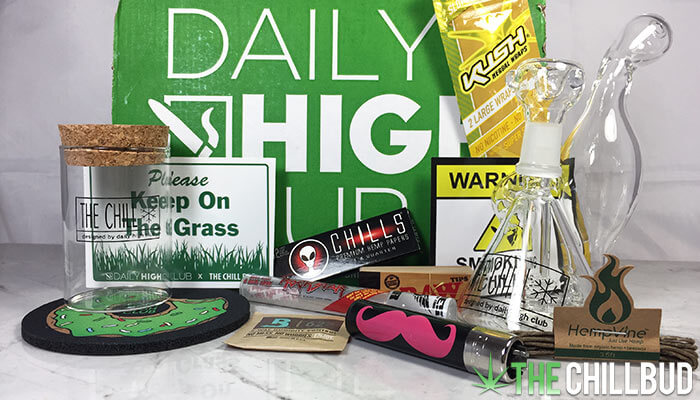 What's the Daily High Club All About?
If you're not already familiar with the Daily High Club, here's a brief rundown of the amazing service they offer both subscribers as well as non-sub customers.
Choose between three different tier options: All-natural, Connoisseur and El Primo. The All-natural is the cheapest option coming in at $1 USD + $2 USD shipping, giving customers the essentials (papers, matches, hemp wick and filter tips). A great way to keep your kit loaded up every month without having to leave the comfort of your home.
The Connoisseur option is a collection of 7-9 products for $12 USD shipped for free to USA residents. Expect things like rolling papers, filter tips, lighters, doob tubes, pre-rolled cones etc…
The best value and most exciting option is the El Primo box, giving customers over $80 worth of smoking supplies for $30 or less (depending on your subscription plan). The El Primo DHC box always includes a new piece of glass for your collection as well as a myriad of smoking essentials to keep you topped up all month long. Buy an El Primo box for $30 USD with free shipping to US residents, or subscribe for additional savings ($27.50/month for 6-month plans and $26.50/month for 12-month plans). Far and away the best deal we've ever come across, especially considering the unique and high quality glass pieces they include in every box.
The Daily High Club also has an online store that gives customers the chance to purchase past favorites, from complete boxes to individual glass pieces and everything in between.
Past Daily High Club Glass Pieces
Here are a few examples of the amazing and unique glass pieces that the Daily High Club has released.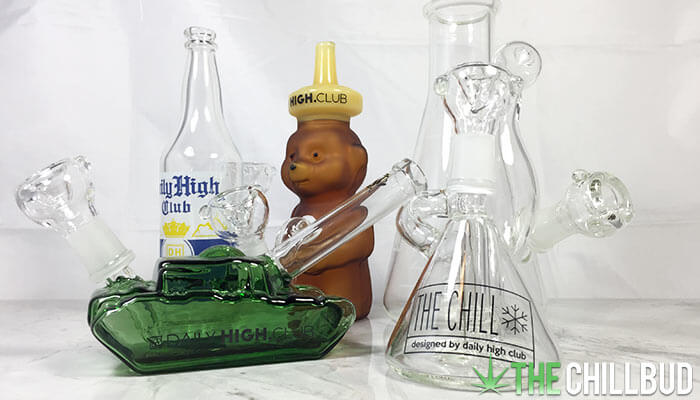 The Chill Bud II Presented by Daily High Club
Our friends at the Daily High Club are always a pleasure to work with, for the simple fact that they put the customer first and they know smoking accessories inside and out. You really get the sense that a smoker is putting these boxes together, not some number crunching business person that has never puffed in their life.
We worked closely with the DHC to ensure every item in The Chill Bud II box was a perfect fit. Offering customers a wide array of items they'll use everyday, there's something for everyone.
Piece by piece breakdown:
Chill Bud 14mm Glass Recycler

Chill Bud glass jar

DHC Donut glass mat

Boveda 2-way humidifier

Full size Clipper lighter

Chills 1 ¼ papers

Kush hemp wraps

Hempvine hemp wick

RAW filter tips

Cyclone pre-rolled cone

DHC sticker set
An unprecedented value for the $30 USD they're charging (less if you're a subscriber).
So… What are you waiting for? The Chill Bud 2 box is only available for a limited time, so go grab one for yourself or a friend and you can thank us later.
Get yours here: DailyHighClub.com
Comments