Lineage: Unknown. According to Leafly it is closely related to the indica strain La Blanca Gold. A strain derived from Super Skunk, Great White and Skunk #1.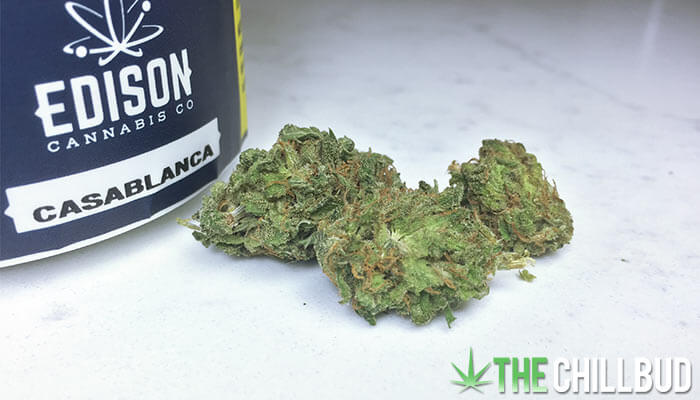 Casablanca from Edison Cannabis Co. Review
Edison Cannabis Co. has some really great quality bud. Originally they caught some flak for having very dry product that would turn to dust as soon as you tried to grind it. They since remedied this issue by adding humidity packs to each container.
*Virtually all Canadian cannabis producers had / have extremely dry product due to mold concern and the time it takes between packaging the product and the consumer purchasing the product.
The quality of the buds themselves was very impressive. They were tight buds that fluffed up nicely once ground. The stems were extremely thin and the nugs were well manicured. With a very earthy aroma and a sweet taste Casablanca is a very well rounded strain considering it's one of the cheaper strains available in most Canadian dispensaries.
Expect classic indica effects when consuming Casablanca, making it a great strain for the end of the day. I felt very relaxed and a bit sleepy after smoking. One thing I noticed was a bit of a brain fog immediately after smoking. This isn't totally uncommon, especially with indica strains.
The particular batch of Casablanca I got from Edison Cannabis Co. came in at ~15% THC and <0.07% CBD.
Comments