Dad and Dude's Breweria just received federal formula approval, now they just need label approval before they can start selling cannabis infused beer nationally!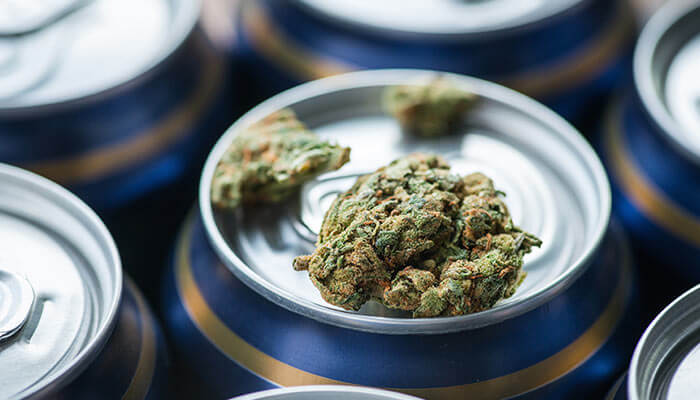 There are already plenty of brewers using cannabis to infuse their beer, what they might not tell you is that they use cannabis seeds which contain next to no cannabinoids & terpenes. What makes this story so exciting is that they are using the cannabis plant itself, allowing them to deliver a far more potent dose of CBD, CBN, CBG as well as the myriad of aromatic terpenes.
The brew won't contain any THC, meaning the only mind altering effects will be from the alcohol and not from the infusion of cannabis. The government seems to be loosening its restrictions as far as cannabidiol and various other cannabinoids, however as soon as THC is used it becomes very difficult to get to market and impossible to distribute nationally.
Dad and Dude's is a small, family operated company based out of Aurora, Colorado. Company president and co-owner Mason Hembree says they're ready for the national stage already, "We are actually prepared to get this product out to everyone who wants it within the first year," he told reporters. "We have bars and liquor stores – not to mention distributors – across the country just clamoring to have the opportunity to distribute this because they see the future as well."
They're partnered up with a Colorado brewery that can produce around 10,000 barrels annually, but they already have a national brewery who can expand production to over 100,000 barrels.
Cannabis enthusiasts are quick to compare marijuana to alcohol when discussing the lunacy of pot prohibition. The alcohol industry has been pouring money into the pockets of politicians for years in order to keep cannabis illegal. As someone who enjoys the odd alcoholic beverage as well as the devil's lettuce, I'm excited to see a product that marries both, distributed on a national level.
If / when cannabis becomes legal in all forms nationally, we expect that the folks at Dad and Dude's to incorporate THC into their brew. Until then, I can't wait to give the THC-free, cannabis-infused beer a try!
Brief Overview of Cannabidiol (CBD)
Cannabidiol is a compound in cannabis that offers a plethora of health benefits with no psychoactive effects. It is a powerful antioxidant, anti-inflammatory, anti-tumor and anti-seizure compound that has a remarkable number of potential medical uses. We have only just begun to study and understand just how useful CBD can be for medical patients, but the list of benefits is already huge!
Many cannabis breeders offer CBD strains that offer a much larger dose of CBD than a typical cannabis strain. These plants are often bred to have very low THC levels, allowing medical patients to medicate freely without worrying about being too stoned. Even the major seed sites offer a few varieties of CBD cannabis seeds for medical growers.
The medical benefits of CBD are phenomenal to say the least. I wouldn't expect a beer with trace amounts of CBD to make any waves in the medical world, but it's a great step towards eliminating the stigma associated with cannabis.
Cheers.
Comments