The government of Canada has finally released its framework for recreational cannabis legalization in 2018. A host of bills were introduced in the House of Commons by Justice Minister Jody Wilson-Raybould, Publish Safety Minister Ralph Goodale, Health Minister Jane Philpott and Foreign Affairs Minister Chrystia Freeland.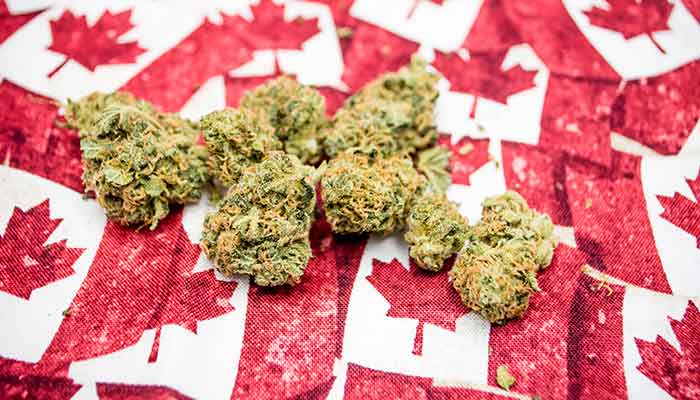 Canada Rolls Out Cannabis Legalization Plan
The announcement on April 13th, 2017 wasn't as comprehensive as some might have hoped, leaving much to be determined by individual provincial governments. The minimum age to purchase and use cannabis legally was set at 18 years old, but provinces can raise this as they see fit.
For the first time in Canada, selling cannabis to a minor would become a specific criminal offence, punishable by up to 14 years in jail. There's also a "zero-tolerance" approach to drug-impaired driving.
Once the bills introduced are passed, Canada would become the first member of the G7 to legalize cannabis for recreational use nationwide.
Health Canada's Strict Cannabis Regulations
Things like packaging rules, taxation and rules surrounding retails sales are yet to be hammered down, but so far it seems the approach will be very similar to the tobacco industry. So far this is what we know:
Adults 18+ can possess up to 30 grams of dried cannabis or equivalent in non-dried form.
Adults 18+ can share up to 30 grams of cannabis with other adults.

Must purchase cannabis and cannabis oil from provincially-licensed retailers (or online from federally-licensed producers).

Adults 18+ can grow up to 4 cannabis plants per household. Maximum height of 100 cm. Seeds and plants must be purchased from licensed retailers.

Adults 18+ can make cannabis products such as food and drinks, provided no organic solvents are used.
As far as the marketing for cannabis products is concerned:
Cannabis products are prohibited from being "appealing" to youth.

Self-serve displays / vending machines are prohibited.

Promoting cannabis use is strictly prohibited except for very specific circumstances where the promotion could not be seen by a young person.
The government has committed $9.6 million to comprehensive public awareness campaigns to inform Canadians of the health and safety risks associated with cannabis consumption.
At first, cannabis infused edibles will not be available for sale. The edibles market requires further rules and regulations.
Federal Government Responsibilities
Set strict requirements for producers who grow and manufacture cannabis.

Set industry-wide rules and standards including:

Types of cannabis products that will be allowed for sale.

Packaging and labelling requirements for products.

Standardized serving sizes and potency.

Prohibiting the use of certain ingredients.

Good production practices.

Tracking of cannabis from seed to sale to prevent diversion to the illicit market.

Restrictions on promotional activities.
Provinces and Territories Responsibilities
Increase the age limit to purchase / use cannabis (cannot lower it).

Lower the personal possession limit in their jurisdiction.

Create additional rules for growing cannabis at home, such as lowering the number of plants per residence.

Restrict where adults can consume cannabis, such as in public or in vehicles.
What Cannabis Proponents Are Excited About
These long-awaited bills have a couple of positive tidbits in them. For example, legalizing possession up to 30 grams (which is plenty for a night out), and the ability to grow up to 4 plants at home. That being said, the provincial regulations could lower these limits and we wouldn't be much better off than pre-legalization.
What else are cannabis proponents excited about? Well… None of it.
The portion of the bill that really rubs me the wrong way is the approach towards driving under the influence of cannabis. Their "zero tolerance" approach means that individuals who smoked a joint a day or two ago could risk getting a DUI charge because THC takes a while to completely rid itself from the body. Regular users are especially at risk as their tolerance is higher and blood THC levels take far longer to return to 'normal'.
Let's Use Logic and Facts
What I'd like to see is an unbiased, scientific approach to legalization, and driving under the influence in particular. Let's look at the studies done comparing cannabis use and alcohol on a person's ability to drive. Let's look at the states that have legalized recreational cannabis and see how it has affected highway safety and collisions involving cannabis users.
I'm not supporting driving around with a blunt hanging out of your mouth, or a bong on your lap while cruising around town. But if a responsible adult smokes a joint one night, sleeps it off and then jumps in their car, they shouldn't be at risk. Introducing legislation that punishes cannabis users far more than those who consume alcohol and drive is a step in the wrong direction and it's completely baseless.
Much remains to be determined over the next year before legalization actually rolls out. We hope that logic will prevail and Canadians will be able to enjoy cannabis responsibly without fear of prosecution.
Comments