Gorgeous glass is something that everyone can enjoy, whether they toke or not. However, a toker will have a special appreciation for all the beautiful glass pieces that Grav Labs has to offer.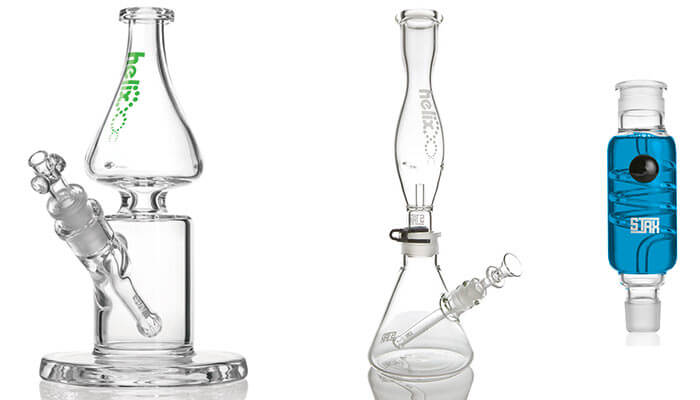 Our friends over at Head Shop Headquarters wanted us to put a post together all about the Grav Labs glass they carry. It didn't take much convincing for us to dive right in, after all, Grav Labs are world renowned for their pieces and the prices (for the most part) are more than fair.
Grav Labs Helix & Stax Glass
We wanted to take a closer look at the Grav Labs Helix line of glass. Designed to make a sort of vortex inside the pipe, the idea is to cool the smoke by forcing it to spin rapidly. Unfortunately we haven't had the chance to try out any of the Helix glass, but hope to include some in our review section someday soon.
Grav Labs offers Helix pipes, steamrollers, bongs, bubblers and even mouthpieces. Helix glass is instantly recognizable thanks to the unique design of the glass. Yes there are other 'vortex' style pipes and bongs out there, but none come with the prestige and quality offered by Grav.
Grav glass is carried by all the top online head shops, including: Billowby, Grass City, Smoke Cartel, The Dab Lab and of course, Head Shop Headquarters. Because Grav doesn't sell to the public, you'll have to pick some up from one of their trusted partners.
We have a soft spot in our heart for Grav, the simplicity of their scientific glass combined with the functionality of their ingenious additions is the reason their pieces are coveted throughout stoner circles everywhere.
Another glass line from Grav worth checking out is their Stax glass collection. It's basically a build-a-bong, offering customers near endless variations. Start with a classic beaker base, disc base or a classy turbine base. Add a Stax glycerin coil to your piece, and top it off with a Helix mouthpiece. It's an easy way to mix things up and make all your buds extremely jealous!
Check out Grav's line of glass and start justifying the purchase of a new bong, you won't regret it!
This post was made possible thanks to Head Shop Headquarters an Online Head Shop.
Comments