Anxiety affects an estimated 40 million people in the United States, and only about one-third of individuals suffering from an anxiety disorder are receiving treatment. Cannabis could be the answer for the millions of Americans suffering from mild to severe anxiety.
Using Cannabis to Treat Anxiety
Some people report feeling increasingly anxious immediately after consuming cannabis, and this is particularly common when consuming large quantities or extra potent varieties of marijuana; especially when users are relatively new cannabis consumers. The key to relieving anxiety with cannabis is using it in moderation and finding the right strain for your specific needs. Below we've compiled a list of 25 strains that are particularly effective for treating anxiety, that being said, not every strain is perfect for everyone in every situation.
25 Cannabis Strains to Relieve Anxiety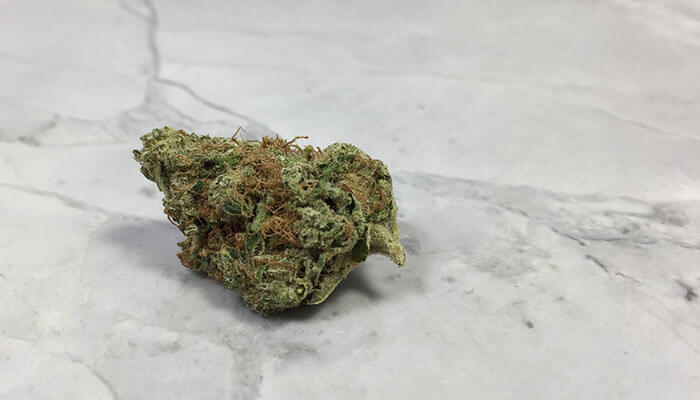 Snoop Dogg OG
Indica
Crush your anxiety with a little help from Snoop Dogg OG, a strain of cannabis named after the cannabis loving rap legend, Snoop Dogg. As with most Indica dominant strains, expect a feeling of deep relaxation to wash over you and quell your anxiety.
Born from Lemon OG and Sour Diesel, Snoop Dogg OG has a pungent aroma and flavor. Pro tip: Have some munchies on hand when dabbling with the Dogg.
Charlotte's Web
Sativa
We wanted to include this strain even though it is quite different from any other on this list. Charlotte's Web is a high CBD cannabis strain that contains next to no THC. This means it doesn't have the psychoactive effects that other cannabis strains are coveted for, instead it's purely a medical strain.
The high levels of CBD found in Charlotte's Web help with a myriad of health issues. Deep relaxation is one of the side effects of cannabidiol (CBD), helping to reduce feelings of stress and anxiety. A perfect option for individuals who want relief from their anxiety without the sensation of being 'stoned'.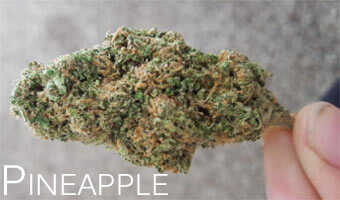 Pineapple
Hybrid
This hybrid strain has a sweet, tropical taste which will transport you to a sun-filled beach in the tropics. Leaning  towards the indica side of things, the Pineapple strain will leave you feeling relaxed and elated. Pineapple is a great strain for relieving stress and anxiety, plus it tastes fantastic!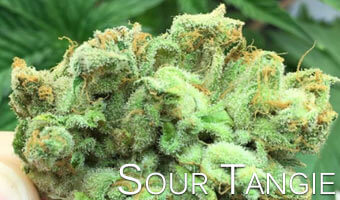 Sour Tangie
Sativa
Tangie is one of our favorite strains, the aroma and flavor are out of the world! Sour Tangie kicks things up a notch by crossing Tangie with Sour Diesel, giving this Sativa dominant strain added punch!
Sour Tangie offers an uplifting high that won't plant you in the couch for the day. Start your day with a bowl of this citrus diesel and put your anxiety to rest.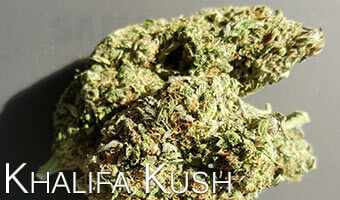 Khalifa Kush / Wiz Khalifa OG
Hybrid
An illusive strain that's as potent as it is difficult to find. Khalifa Kush is a cannabis strain that was specially bred for the world renowned rap artist Wiz Khalifa. If you happen to catch Wiz sparking a blunt, chances are he's putting some Khalifa Kush in the air.
If you can track down some Khalifa Kush (first thing's first, give us a call!) you'll enjoy the energetic cerebral effects of this sativa dominant hybrid.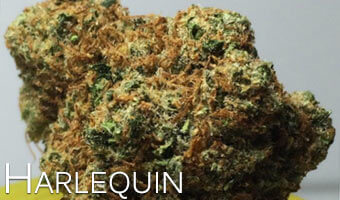 Harlequin
Sativa
Another high CBD strain that consistently offers a CBD:THC ratio of about 5:2. Unlike Charlotte's Web, Harlequin has a moderate amount of THC with a heavy helping of CBD. Ample amounts of cannabidiol provides users with exceptional pain relief, significantly reduced anxiety levels and stress relief.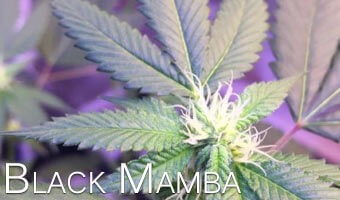 Black Mamba
Indica
As deadly as it sounds. Black Mamba is a hard hitting indica dominant strain that will put newbies to sleep. If you're a well seasoned veteran, go to town!
Black Mamba is reminiscent of GDP, giving off a strong grape aroma and hues of dark green / purple. Anxiety and stress don't stand a chance against the effects of the Black Mamba. We wouldn't recommend starting your day with a bowl of Black Mamba unless you're planning on having a lazy Sunday.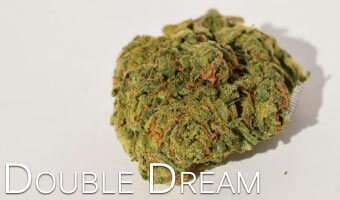 Double Dream
Hybrid
Fan favorite Blue Dream coupled with Dream Star gave birth to this uplifting hybrid that will put you in a clear-headed dreamstate. Eliminate any feelings of anxiety and stress while stimulating creativity and cerebral function. Double Dream is great for daytime use as it doesn't have a profound sedative effects, but it maintains fantastic pain relieving qualities.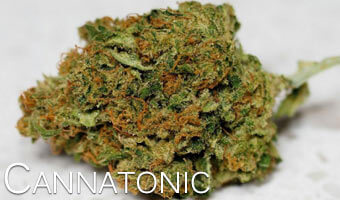 Cannatonic
Hybrid
The third CBD heavy strain on the list. Cannatonic is similar to Harlequin in that it still contains a moderate level of THC (usually around 5%), while boasting an enormous CBD content (15%+). The mild THC levels mean users will enjoy a mild mental buzz for a short time after ingesting Cannatonic, but the medical benefits will persist for quite some time. Cannatonic is a great strain for relieving pain, stress and anxiety without completely intoxicating users.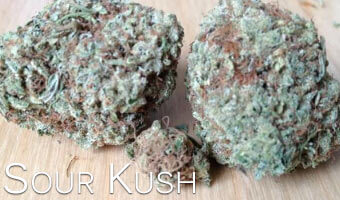 Sour Kush
Hybrid
This is a well balanced hybrid strain that perfectly marries the uplifting effects of sativa strains with the deep relaxation that's heavily associated with cannabis indica. Sour Kush was bred using some of the cannabis world's most legendary genetics, Sour Diesel and OG Kush.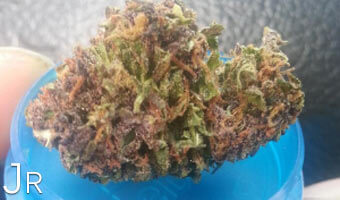 Jr.
Indica
A Jagermeister-esque indica with notes of black licorice and plenty of punch! Jr stays true to its indica roots, providing full body relaxation with a double dose of sedation. It's virtually impossible to feel stressed out, unhappy or anxious when puffing on Jr.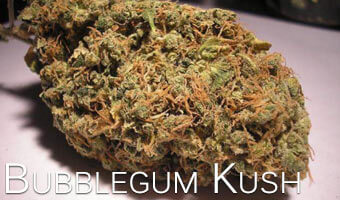 Bubblegum Kush
Indica
Bulldog Seeds in the Netherlands gifted the world a highly touted indica strain using Bubble Gum genetics. As with most other indica dominant cannabis strains, Bubblegum Kush will leave you in-da-couch feeling relaxed and free from anxiety.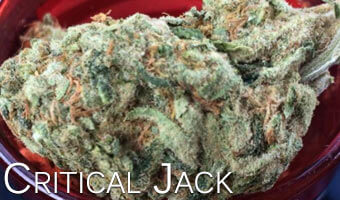 Critical Jack
Hybrid
Critical Jack targets the mind, with a very mild body high. This is no surprise given its deep sativa roots, born from Critical Plus and Jack Herer strains. If you need to stay productive throughout the day then Critical Jack is a perfect choice. Erase any feelings of anxiety and depression with the uplifting and work-friendly Critical Jack strain.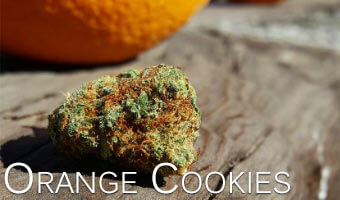 Orange Cookies
Hybrid
The smell alone will leave you feeling relaxed and contented. Orange Cookies is a wonderful marriage between Orange Juice and the oh so popular Girl Scout Cookies that we all know and love! Your taste buds will be overloaded with the flavor of fresh tangerines.
Orange Cookies will leave users feeling elated and relaxed from head to toe. Keep anxiety and stress at bay while enjoying one of the tastiest strains on the planet.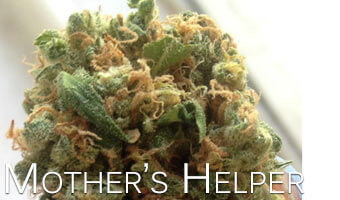 Mother's Helper
Hybrid
A true sativa / indica hybrid that offers the full spectrum of health benefits that each cannabis family has to offer. Mother's Helper combines the sativa Chocolope with Northern Lights indica genetics.
Mother's Helper offers the powerful pain relieving and relaxing qualities that many indica strains have in spade, but it won't plant you in the couch. Expect feelings of joy and creativity while eliminating pain, stress, nausea and anxiety.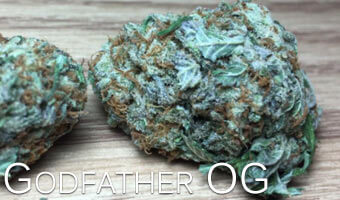 Godfather OG
Indica
Winner of the Best Indica strain at the 2013 High Times Cannabis Cup, Godfather OG is a hard hitting Indica strain that can top the charts in THC levels. Any high THC strain should be used sparingly unless you're familiar with high doses of potent marijuana. If you're using cannabis for anxiety it's important to stay in your comfort zone or you could end up feeling more anxious than before you smoke.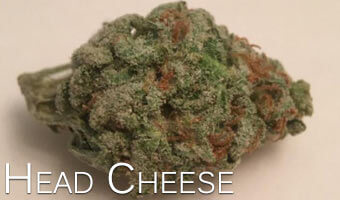 Head Cheese
Hybrid
This sativa dominant hybrid strain is another THC titan of the cannabis world. Head Cheese combines the genetics from Headband and UK Cheese to produce some seriously potent and pungent buds. With THC levels regularly in the mid 20% range, Head Cheese can relieve pain, headaches, anxiety and stress with amazing success.
Chemo
Indica
Originally developed to help combat the nasty side effects of chemotherapy, Chemo is a potent indica that's fantastic for medical patients. It's often used to help treat chronic pain, nausea, restlessness, stress and anxiety. This is another strain to be mindful with as its effects are pretty strong.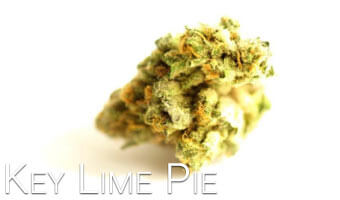 Key Lime Pie
Hybrid
Pull up a chair and grab a bowl of pie. Key Lime Pie is a tangy strain that gives off distinct notes of citrus and lime. While this strain is a well balanced hybrid, the indica characteristics are quite evident. Expect full body relaxation and relief from your anxiety when enjoying this divine strain.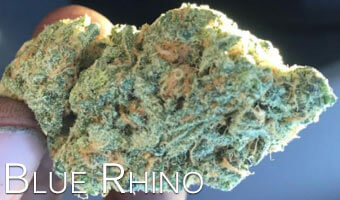 Blue Rhino
Indica
Blue Rhino combines the genetics from a couple of our absolute favorite cannabis indica strains, Blueberry and White Rhino. These strong, aromatic buds give off a powerful blueberry smell coupled with the skunky stink that's associated with the dankest buds. Relieve your anxiety and stress with some of these fantastically tasty nugs. Blue Rhino is a good nighttime strain as it has powerful indica effects.
Timewreck
Sativa
It may be a fruity tasting sativa but don't let it fool you, Timewreck is a superbly potent cannabis strain. Inexperienced users should stick to low doses of Timewreck until they're comfortable with it. A one time High Times Cup winner, the THC content of this sativa is quite high while maintaining its classic cerebral sativa high.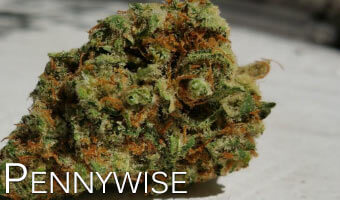 Pennywise
Indica
Pennywise is a high CBD strain that still contains plenty of the psychoactive THC, boasting a well-balanced 1:1 ratio. Using the genetics from the CBD heavy Harlequin mixed with Jack the Ripper, users can enjoy full body relaxation, a mild and very manageable high as well as the full spectrum of cannabidiols health benefits.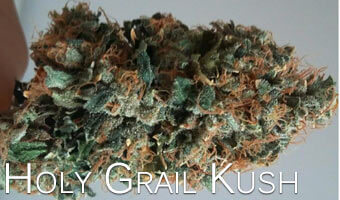 Holy Grail Kush
Hybrid
Born in Colorado to parents, OG #18 and Kosher Kush, it's no surprise that Holy Grail Kush made waves as soon as it hit the cannabis scene in 2011 at the High Times Cup. Medical patients flock to the Holy Grail Kush due to its very high THC levels and relatively mild high. It's still a very potent strain, but the high is far less intense than other 20+ % THC strains.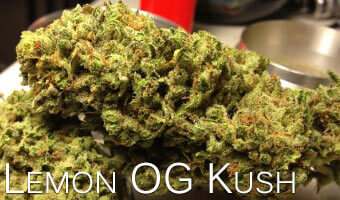 Lemon OG Kush
Hybrid
Also known simply as Lemon OG, this indica heavy hybrid will leave you feeling heavily medicated and ready for bed. Eliminate any feeling of anxiousness or stress and melt away into dreamland with some deliciously lemony buds.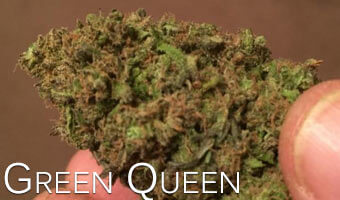 Green Queen
Hybrid
Considered a hybrid, Green Queen's effects lean heavily towards the sativa side of the cannabis family. The extraordinarily popular sativa, Green Crack combined with Space Queen give users an exceptional cerebral high without overwhelming them. Boost your creativity and energy while stifling any feelings of anxiety.
Final Words
Again. Everyone is different, and cannabis may not be the answer for your anxiety. However, cannabis does seem to be remarkably effective for the majority of anxiety sufferers.
Holistic, natural treatments are increasingly popular as droves of people steer away from the prescription drug cartel. With so many people opting for alternative treatment methods, and with mental health issues coming front and center over the past few years we have high hopes that cannabis will become the go-to treatment for anxiety sufferers.
What do you think? Have you tried treating your anxiety with cannabis? We'd love to hear your thoughts in the comments below.
References: adaa.org & leafly.com
Comments