In our quest to review all of the best monthly pot subscription boxes we came across the Hemper box. They were kind enough to send us one of their Glassentials Combo Box's to review, and we did, and it was great!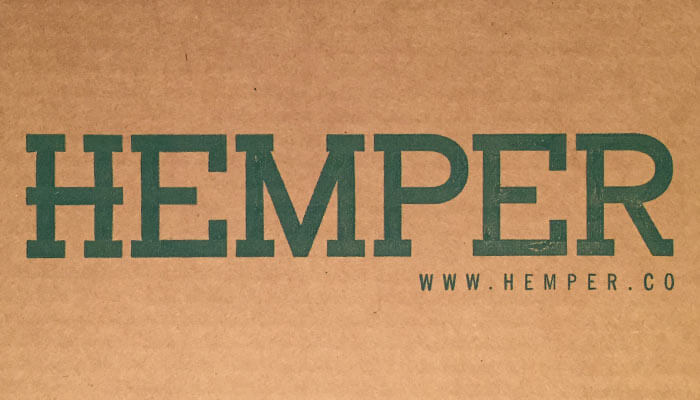 Hemper Box Review
Generally we like to give you a list of all the different options you have when ordering a pot box subscription, for the Hemper we will only list a few because there are quite a few options to choose from.
Bare Essentials $0.99

Hemper Pack $11.49

The Hemper Box $19.99

The Glassentials Combo Box $29.99
The Bare Essentials option is a great way to get the smoking essentials you need at a bargain, plus it's delivered right to your door, convenient right? It contains a pack of king-sized papers, a clipper lighter, some filter tips and a mystery item!
The Hemper Box is their bread and butter box, it has all the goodies for the month minus the piece of glass that comes in the Glassentials Combo Box. For an extra $10, I would opt for the Glassentials box, but if you hate glass or have too much as is, the Hemper Box would be your best bet.
This particular month of the Hemper Box was a bit too practical to be super fun. The air purifier and 710 formula cleaner are both useful I'm sure, but I don't worry about the aroma of Mary Jane in the air, and I use iso to clean my pieces. Unfortunately this is where much of the box's value was found, it will be well received by most, but for me it was a bit of a let-down. Maybe I was let down because it reminded me of the chores I have come to detest, "here are the pipe cleaners and cleaning formula, now go clean your glass!"
Hemper has value down, that's for certain. I may have been a bit disillusioned by the cleaning products, but I can't say it wasn't a worth the $29.99.
The glass found in the Hemper Box this month wasn't anything special, but it works, and that's what really counts. I loved that they included a glass nail as well as a regular glass bowl, catering to those who enjoy extracts and those who prefer the herb.
Seems like the folks at Hemper want to be sure that every box has a little bit of everything, which is perfect! You get some rolling essentials, fire, glass and the bonus items. They don't jam pack the box with papers, tips or any one thing, which is perfect if you are planning on subscribing for more than a month.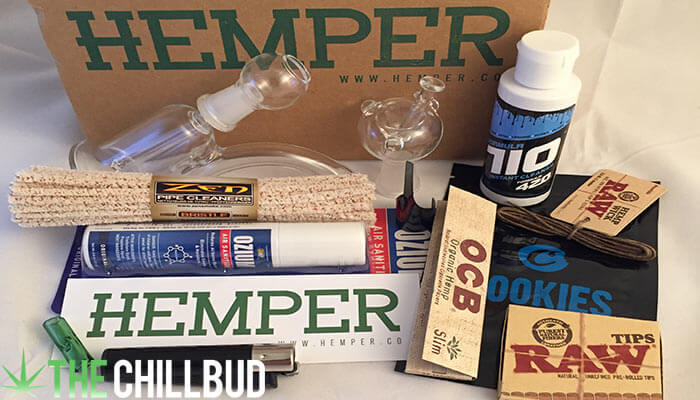 Hemper Stash List
Glass Bubbler with bowls for Dabbing and Flowers
Zen Pipe Cleaners (pack of 48)
Ozium air purifier
Formula 710 piece cleaner
OCB Slim rolling papers
RAW pre-rolled tips (pack of 21)
RAW hemp wick
Clipper lighter
Cookies stink proof bag
Glass filter tip
Kasher de-bowler
Dope Hemper Sticker
Our Feels on the Hemper Box
Whether you choose the $19.99 or $29.99 Hemper box option, you are getting a great deal! These prices put it right in the middle in terms of monthly cannabis box prices. There are plenty of subscription options to choose from too, so you can save a few bucks by purchasing 6-months or a year at a time.
I can't say I was super excited to open up some air deodorizer and glass cleaner, but they aren't inherently 'fun' items. They are meant to be useful, and they are… for most tokers.
There is a Hemper box for you, of that I am certain! Check out their site, browse through the different options and give the Hemper box a try.
October 2017 Hemper Stash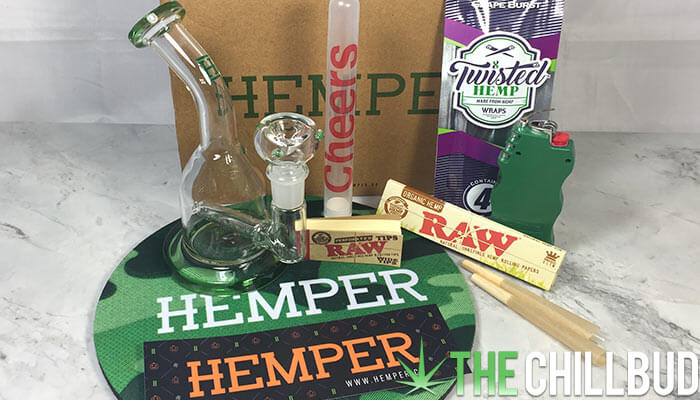 Here's a look at the most recent Hemper box that was sent over to us. It included a sturdy piece of glass, a Hemper glass mat and assorted other goodies. This helps to showcase some of the variety that you'll get when you order from Hemper, and in our humble opinion Hemper has surely upped their game since the last box we checked out almost a year ago.
November 2017 Hemper Stash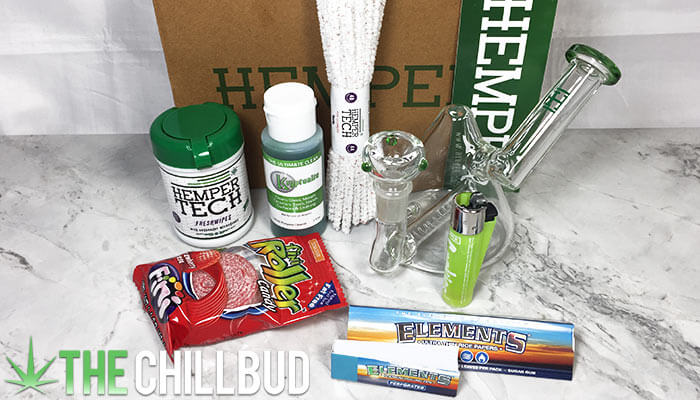 Hemper Box Coupon Code
Need more incentive than our recommendation? Take 15% off your Hemper order with our coupon code: thechillbud
Coupon for 15% Off the Hemper Box: thechillbud
Get your Hemper Box here: Hemper.co
Comments